About Areco Ltd | Nationwide Distributors of quality Flat Roofing Accessories
Areco Ltd exists to make flat roofing easier!

Areco was founded in the mid 1960s by former roofing contractors Ralph Stride and Charlie Jones. Ralph and Charlie identified a need for a quicker, neater alternative to traditional welted drips and Aluminium Trim was born. The business grew quickly and soon they were selling trim by the ton to well known manufacturers and contractors of the day. Soon associated products such as breather vents and roof drains followed and in the early 1990s our renowned Glasstrim GRP Trim brand was launched. Glasstrim is still our best selling line today. Upon Ralph's retirement in 1994, the business was sold to current owners, the family run Watts Clift Holdings Ltd,who have made consistent investment in the Company. Sustained growth forced a move to our current large premises in Aldridge in early 2005, where the business has continued to thrive by continually adding new, innovative and high quality products to our range.
Our MISSION is to provide the roofing & construction industry with high quality, always available products. To deliver on our promises and always act in a socially and environmentally responsible manner.
We have a VISION to be the premier, most trusted distributor of flat roofing accessories in the UK & Ireland.
Our Team
Based in Aldridge, north of Birmingham, our friendly team of roofing specialists are on hand to assist you and deliver the right roofing solutions to suit your needs. Many of our staff have been with Areco for many years and have adopted our customer service ethic. Visit us at our fully stocked trade counter in Aldridge, or call us directly to discuss your roofing requirements.
Quality Roofing Accessories
Our products range from Roofing Accessories (including our renowned own brand GRP and aluminium trim) to Daylight Systems, Rooftop Plant Supports and Guardrail to Paving and Decking Supports & Systems.
Explore our website to discover the wide array of roofing products we have on offer, call us to discuss your roofing needs, or download our brochure for a full list of all our roofing supplies.
Trusted Products
Our products are trusted by many architects, specifiers and membrane manufacturers for use on projects within the public and private sectors. Our Glasstrim GRP trim is widely specified on many schools, hospitals and public buildings, whereas our Nutrim Aluminium trims is often polyester powder coated to provide a stylish architectural finish to prestigious housing and commercial developments.
Areco is the number one choice of many large contractors to fulfil their roofing accessory requirements.

What our customers say about us:
"Areco keep a good range of quality products, that are competitively priced and are in stock for next day delivery. Their staff are very professional and have a full knowledge of their products, prices and delivery times. I would have no hesitation to recommend them to others." - Phil Hawley Contracts Manager, NRA Roofing & Flooring Services Ltd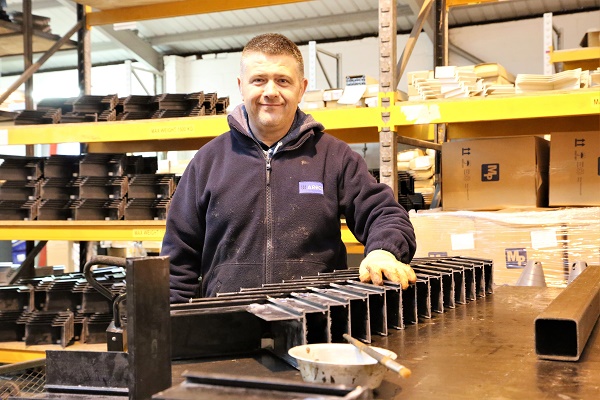 Bespoke Roofing Fabrications
Areco provides a range of bespoke metal fabrications for the roofing industry. These include aluminium wall copings, wall flashing, box gutters, cills and angle sections. These items are usually fabricated from aluminium, though galvanised steel and plastisol sheet can also be used upon request. Finishes include mill, polyester powder coating and anodising.
All of the 90 degree angles for our roof edge trims are made in house to ensure top quality manufacture.
Call our knowledgeable customer service team today on 01922 743553.