Roof Domes & Pyramids
At Areco we understand the importance of natural daylight. Areco domes are manufactured from high quality, impact resistant polycarbonate and include the latest security fixings as standard. Available in a range of standard sizes as well as bespoke sizing options, we are able to offer clear, opaque and obscure glazing if privacy is required. Available in single, double, triple and quadruple skin options to meet exacting U-Value requirements.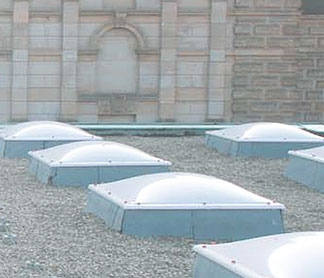 Arecodome Range
The Arecodome Range is a 'dome-only' solution and has been designed to be fitted to existing builder's kerbs.
The 100mm flanged polycarbonate unit ensures it fits to most kerbs without the need for adjustment.
Arecodome is ideal for refurbishment projects where only the glazing needs replaced.
All Arecodomes are manufactured using 3mm polycarbonate. 'According to EN 13501-1 2007, 3mm polycarbonate achieves B-s1-d0 and therefore attains Class 1 Certification. TP(a) is realised with a solid polycarbonate sheet minimum 3mm thick.
Single, Double, Triple or Quadruple skin
Clear or Diffused
Security Fixings supplied as standard
Easy to install with minimum disturbance
Please Note: All Arecodomes are supplied undrilled for maximum flexibility.
Arecodome Size
(to outer edge of flange)
Min
ext kerb
Max
ext kerb
600 x 600
510 x 510
610 x 610
600 x 900
510 x 810
610 x 910
600 x 1200
510 x 1120
610 x 1220
600 x 1800
510 x 1730
610 x 1830
750 x 750
660 x 660
760 x 760
750 x 900
660 x 810
760 x 910
900 x 900
810 x 810
910 x 910
900 x 1200
810 x 1120
910 x 1220
900 x 1800
810 x 1730
910 x 1830
1050 x 1050
970 x 970
1070 x 1070
1050 x 1500
970 x 1420
1070 x 1520
1200 x 1200
1120 x 1120
1220 x 1220
1200 x 1800
1120 x 1730
1220 x 1830
1200 x 2400
1120 x 2340
1220 x 2440
1500 x 1500
1420 x 1420
1520 x 1520
1800 x 1800
1730 x 1730
1830 x1830
Buy Roof Domes & Pyramids online