Polycarbonate Sheet
Areco long life multiwall sheet is a lightweight insulating glazing material manufactured from damage resistant polycarbonate. Added Long Life UV protection provides resistance against the effects of UV weathering. Areco multiwall sheets are available in a range of thicknesses, structures and options for a wide range of roofing, cladding and glazing applications. Areco only distribute well known and reputable sheet from manufacturers such as Brett Martin. Full Range of Glazing Bars and Accessories are also available from Areco.
Ideal for Domestic, Commercial and Industrial applications. Main uses include North Light replacement, Covered Walkways and Play areas, Smoking Shelter and Canopies, Conservatories and Skylights.
Areco polycarbonate is available in standard sheet sizes and cut to size options. All our sheet orders are knife cut to avoid swarf in sheet flutes and are delivered to site with anti-dust and breather tape fitted as standard.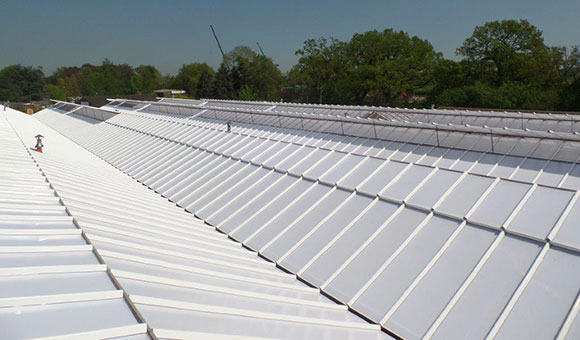 Actual project supplied by Areco in 2018
Lengths
2 - 7 metres
Widths
700mm - 2100mm
For the full range of sheet sizes available, please contact our sales team.
Thickness
6mm Twin Wall - Weight 1.3Kg M2
10mm Twin Wall - Weight 1.7Kg M2
16mm Triple wall - Weight 2.7Kg M2
25mm Structured - Weight 3.5Kg M2
35mm Structured - Weight 4.0Kg M2
Colours
Clear available in all thickness
Bronze available in all thickness
Opal available in all thickness
Solar Control available in 16mm, 25mm and 35mm
Light Transmission
10mm & 16mm Clear - 76%
10mm & 16mm Bronze - 35%
10mm Opal - 45%
16mm Opal - 35%

25mm Clear -55%
35mm Clear - 50%
25mm & 35mm Bronze - 20%
25mm & 35mm Opal - 20%

Solar Ice all sizes - 20%
Fire Rating
BS476/7 (Class 1)
Polycarbonate carries a 10-year warranty covering loss of light transmission and loss of strength due to weathering.
For further technical details, visit www.palram.com.
How to fix
1) Right side up
There is a top and bottom side to Areco Poly sheets. The top surface has been specially protected against adverse weather conditions so it is important to ensure it is installed the right way up. The side protected by the printed film is the top side. To ensure maximum weathering protection make sure the sheets are not installed upside down.
2) Tape ends of sheets
Unless cut down from a standard size most Areco Poly sheets will be delivered with masking tape on both ends. To reduce the risk of moisture getting trapped in flutes of the sheet it is advisable to tape both the top and bottom of the sheets with filter tape prior to fitting.
3) Thermal movement
Polycarbonate is subject to movement both laterally and longitudinally as a result of changes in temperature. It is therefore essential that adequate clearances are allowed when fitting glazing bars. A gap of 3mm must be allowed between the sheet end and fixing leg of the glazing bar.
4) Fixing buttons
In exposed conditions, or where large panels are used fixing buttons are recommended at the eaves and on the purlins to prevent movement.
5) Cleaning
Polyglaze sheets should be cleaned with a soft sponge or cloth using warm water and a mild soap or detergent. Do not use abrasives or cleaners with high alkaline content.
6) Suitable sealing
To allow for expansion and contraction of Areco Poly only non-hardening silicone sealant should be used. Although most low modulous sealants are suitable, there are a few containing chemical agents which react adversely with Polycarbonate. Ensure sealant used is compatible with polycarbonate.
7) Flashing material
Ideally a metal flashing (Lead, Aluminium or Zinc) should be used since these do not interfere with the thermal movement of the sheet. Self adhesive flashings can be used but preferably in short lengths - max. 2m - with an overlap of 150mm. There are a few adhesive flashings which have an adverse effect on Polycarbonate. The following materials are recommended: Metallic-Lead, Aluminium, Zinc, Galvanised Steel, Adhesive-Synthetic Rubber Sealing and flashing tape.
8) Protective masking film
All Areco Poly sheets are supplied with a polythene film on both sides and tape on both ends to protect the sheet during transit and installation.
| | |
| --- | --- |
| | 1) Cutting: Areco Poly sheets can be easily cut with an electric or fine tooth hand saw. Ensure that the sheet is properly supported before cutting. Polyglaze sheets expand or contract by approx. 3mm per linear metre. Allowance must be made for this when cutting to size. |
| | 2) Drilling: Before drilling make a small hole with a nail or bradawl to avoid drill travel. Holes should be approx. 3mm larger than the stem of the fixing button to allow for expansion and should be positioned at least 40mm from the edge of the sheets. |
| | 3) De-burring/cleaning chambers: Rough edges can be smoothed with a file or fine sandpaper. To remove swarf from the chambers use an ordinary domestic vacuum cleaner or compressed air jet. |
| | 4) Removing protective film: When masking, drilling and cutting has been completed, peel back approximately 50mm of film all round both faces. The polythene film should only be fully removed when installation is complete. |