Aluminium Capping
Areco provides a range of metal fabricated products for the roofing industry, these include , aluminium cappings & copings, wall flashing, box gutters and angle sections. These items are usually fabricated from aluminium, mill finish or powder coated, but other materials including galvanised steel and plastisol sheet can also be provided.

Aluminium Cappings & Copings
Our secret fix aluminium capping system with its hidden brackets provides a smooth, clean outline to roof edges, whilst protecting parapet walls from damaging air- bourne pollution, rain and snow.
Secret fix aluminium coping can be supplied in mill finish aluminium or powder coated to most BS or RAL Nos, allowing the coping to be colour matched with the other parts of the buildings structure. The aluminium coping can also be fabricated with either a flat top or sloping profile and overhangs the brickwork to allow water to run off clear of the wall edge. The system includes a variety of corner junction pieces and expansion joints to meet different design demands.

Aluminium Box Gutter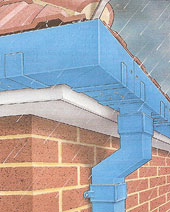 Used on commercial and industrial buildings, aluminium box gutters powder coated to BS or Ral numbers provide the solution to matching gutters and downpipes to the rest of the building. Our aluminium box gutters can be fabricated to a range of sizes.
Complete the form below to send us you fabrication requirements.


Wall Flashings/ Angles/ Cill sections
Wall flashings, angles and cill sections can be fabricated to a multitude of shapes and sizes to provide a professional finish to the structure. They can be powder coated to most BS or RAL numbers to provide that matching finish to the rest of the structure. Jointing sleeves can be provided if required.


Fixing Instructions
Prior to fixing – On arrival on site copings should be thoroughly checked to ensure That material is as ordered and has no damage. It is advisable to lay out coping prior to fixing to ensure sufficient quantities and to familiarise with the position of the Components.
Cutting
Coping may be cut using normal metalwork tools as required. All cuts should be de-burred. If powder coated coping is cut a touch up can be supplied at extra cost.
Fixing
Coping is supplied with 3 fixing brackets per length, one joint and 2 intermediate. One should be fixes at each end and intermediate at approximately 1000mm centres. On long runs it is advisable to use a builders line to ensure good alignment of brackets. It is advisable to fix fittings first and then cut lengths of coping to suit. Brackets should be fixed with corrosion resistant screws. Length and gauge of screws are dependant on the substrate.
Thermal Expansion
A 3mm gap should be allowed at all joints to allow fo thermal expansion.